Meet the Staff of Holmdel Veterinary Clinic
The first thing you'll notice when you walk into Holmdel Veterinary Clinic is the incredibly friendly and inviting atmosphere. Members of our staff have been hand-picked to provide you & your pet the best possible experience during your visit. Learn more about our team below.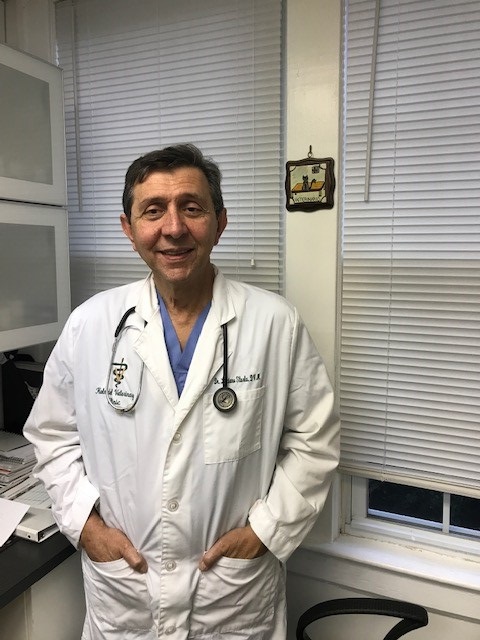 Luciano Sturla, DVM | Practice Owner
• Years in Practice: Since 1980
• Education: University of Turin School of Veterinary Medicine
Luciano Sturla, "Dr. Luc" was born and raised on a working farm in the province of Turin located in Northern Italy nestled below the French Alps.
Growing up, Dr. Sturla had a passion for the caring of animals. His career goal focused on veterinary medicine at an early age. He earned his undergraduate degree and his Doctorate of Veterinary Medicine from the University of Turin. He owned and operated a private veterinary practice in Turin before moving to the United States. Dr. Sturla became a member of the staff at the Animal Emergency and Referral Associates (AERA) in Fairfield New Jersey where he gained extensive experience in critical emergency medicine and surgery. Dr. Sturla devotes his compassion and dedication to veterinary medicine between his private family day practice in Holmdel and emergency medicine at AERA.
Dr. Sturla enjoys building and repairing anything imaginable, from building his own backyard shed to finishing his own basement to repairing appliances and electronics. In addition, he takes pride in his culinary expertise, cooking is relaxing and creative. In his younger days, his passion was rally car racing in the foothills of Turin, Italy.
Dr. Sturla shares his life with his spouse Sandra, sons Matteo and Gianluca, and a 'Scotty' name Kelly
and cats, Briciola and Felix.
__
Sandra Nazzaro-Sturla | Business Manager/Practice Manager
Sandra has always found the medical field fascinating. Her love and passion for the field increased tenfold in 2015 when she and her husband Dr. Sturla decided to take ownership of Holmdel Veterinary Clinic and embark on an exciting and rewarding experience. Sandra is the mother of two sons, Matteo and Gianluca. Her spare time is spent with her family, including her and Dr. Sturla's 4 legged 'kids" a Scottish Terrier named Kelly and two cats Briciola and Felix.
Maureen | Head Receptionist
Maureen is a full-time receptionist here at our clinic. She joined our team in June of 2018 with a Bachelor of Science in Criminal Justice. Maureen has several years of experience working in the veterinary care field on and off from 1998 to now. Before joining our team, she worked as a Client Services Coordinator at Animal Emergency and Referral Associates.
Maureen has three pets of her own: Duncan a 10 year-old Shih Poo, Fifi a 13 year-old Domestic Shorthair, and Bummy an 18 year-old Cockatiel. Maureen enjoys spending time with her family, especially visiting the Pocono Mountains.
Courtney | Receptionist
Courtney joined our team in June of 2018. She has receptionist experience in the field since 2009. Courtney has four dogs of her own: Madison, 8-year-old mixed breed, Cooper, 5-year-old mixed breed, Oakey a 5 year-old Australian Shepherd and Mia a 3 year-old mixed breed. In her free time, Courtney enjoys reading, spending time with her niece and nephews, and going to the beach.
__
Dominique | Head Veterinary Technician
Dominique is a certified veterinary assistant who has been with HVC since Dr. Sturla took ownership of the practice in 2015.
At home, Dominique has a four-year-old pet mini pig named Cinnamon Sugar. She volunteers for New York Bully Crew dog rescue, walking dogs and making gift baskets for the fundraisers that they hold. In her spare time, Dominique spends time with her husband and family. She enjoys baking, reading a good book, but her favorite is planning her next trip to Disney!
Emily | Veterinary Technician
Emily has been with HVC since November 2018 with two years prior experience in the veterinary care field. Before joining our team, Emily worked at Medvet Medical Cancer Center for three years in the Emergency Room department. She is currently enrolled at Brookdale Community College in a nursing degree program.
Emily loves horseback riding and was a member of the National Barrel Horse Association for several years. In her free time, Emily enjoys weightlifting, traveling, and studying nutrition.
Allyah | Veterinary Technician
Lauren | Veterinary Technician